Ivan Baschang has been concentrating for years on the so-called corbeilles – iron baskets which had been installed as paper garbage cans in the parks of Paris from the 19th century on. After September 11., 2001, they were deinstalled and scrapped by and by. Until then, they characterized the cityscape like the typical Paris street lamps and tree rings.
After the photographic act by means of an analogue medium format camera, the paper baskets were relieved from their former function, restored and by this saved from being scrapped. Transferred from the exterior to the interior respectively to the exhibition space, they correspond as Objet trouvé with the "disappeared" photographies, which document their previous function and origin.
Ivan Baschang: born 1971 in Karlsruhe, studied at Fotoschule München and AdBK München. Diploma under Sean Scully, artistic assistant of Jean Marc Bustamante at AdBK München since 2010. Regular exhibition activity with focus on France and Germany. Works in public and private collections.
The artist lives and works in Munich and Paris.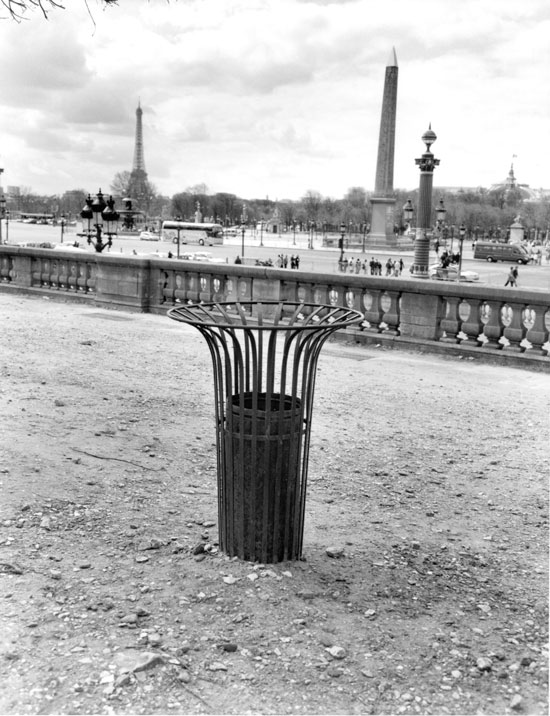 From the series Corbeilles de Paris | 2004 – 2013 | b/w photography on baryta paper | 40 x 30 cm | Edition of 5 Ex.
Views of the exhibition
February 12. – March 18., 2016
CORBEILLES DE PARIS
Photography
Vernissage with the artist in attendance
Friday, February 12., 2016, 6:00 p.m.
Opening hours
Wednesday and Friday 2:00 p.m. – 6:00 p.m.,
Saturday 12:00 p.m. – 4:00 p.m.
and by appointment
Special Opening hours
Duesseldorf PhotoWeekend 2016
Friday, February 12., 2016, 6:00 p.m. – 9:00 p.m.
(joint opening)
Saturday, February 13., 2016, 12:00 p.m. – 6:00 p.m.
Sunday, February 14., 2016, 12:00 p.m.– 6:00 p.m.
The contents of external links (

) are subject to liability of the respective provider. External links will open in a new window.