Michael Utz is an artistic photographer living and working in Heidelberg. His photographic work and numerous exhibitions led him to places as Normandy, Andalusia, India, Ticino, Paris and many others. In addition to his work as freelance photographer, Michael Utz worked as radio director for the Südwestrundfunk from 1995 to 2003.
Being fascinated by abstraction in real life, he is searching for structural and contentual relationships between animated and inanimated, between nature, architecture and everyday objects. With his clear, sharply-contoured images and ornamental, graphic depictions, Michael Utz elevates fragments of nature and architecture to autonomous picture motifs of strong spacial depth.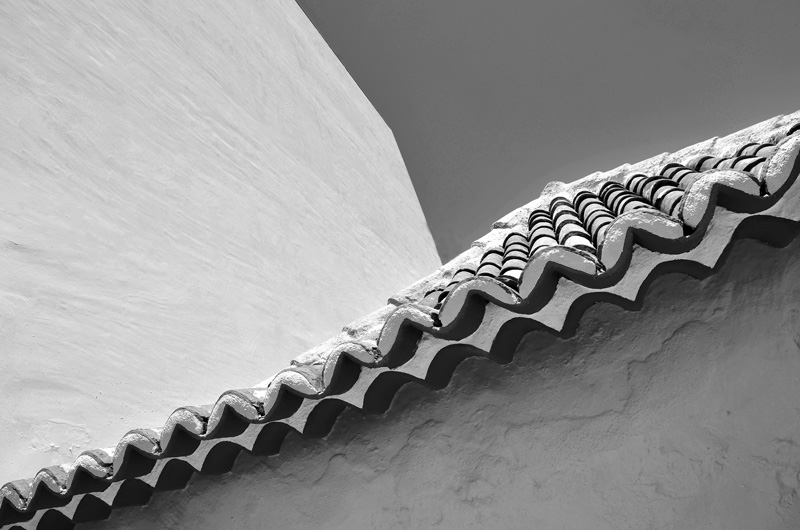 Michael Utz: La Palma Dach | 2014 | 30 x 45 cm | Digital print on Canson Fine Art Photo paper
Views of the exhibition
February 16. – March 10., 2018
RÄUME – ORTE
Photography
Vernissage with the artist in attendance
Friday, February 16., 2018, 6:00 p.m.
Opening hours
Wednesday and Friday 2:00 p.m. – 6:00 p.m.,
Saturday 12:00 p.m. – 4:00 p.m.
and by appointment
Special opening hours
Saturday, February 17., 2018: 12:00 p.m. – 8:00 p.m.,
(with 'Duesseldorf Photo Weekend 2018' taking place in parallel)
The contents of external links (

) are subject to liability of the respective provider. External links will open in a new window.