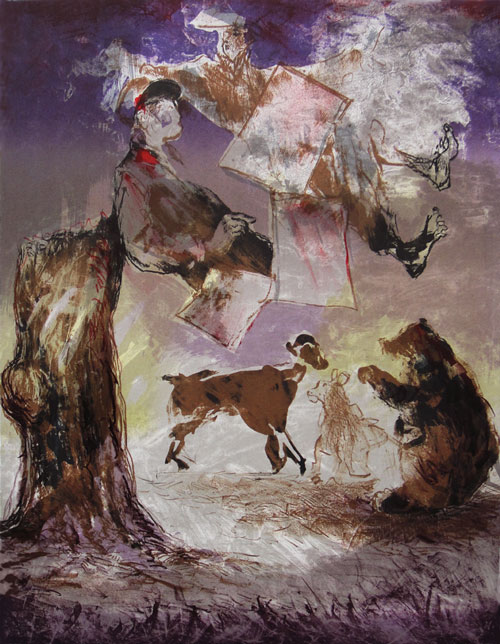 Neuwald suchen
2015
Drawn on stone, printed from stone
(Original lithograph) on BFK Rives, 250 g/m2
in 7 colours
Printer: À FLEUR DE PIERRE, Paris
65 x 50 (Paper size / size of image)
Edition of 35/Arabic numbered 1-35
and 10 E.A./Roman numbered I-X
Price: 490,00 € per item
Forwarding expenses: 12,00 € (Postage, packaging and insurance)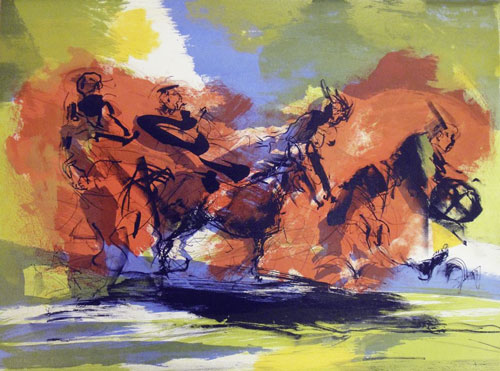 Swingende Seelen
2013
Drawn on stone, printed from stone
(Original lithograph) on Velin d'Arches in 5 colours
Printer: À FLEUR DE PIERRE, Paris
47,5 x 65 cm (Paper size / size of image)
Edition of 35/Arabic numbered 1-35
and 10 E.A./Roman numbered I-X
Price: 490,00 € per item
Forwarding expenses: 12,00 € (Postage, packaging and insurance)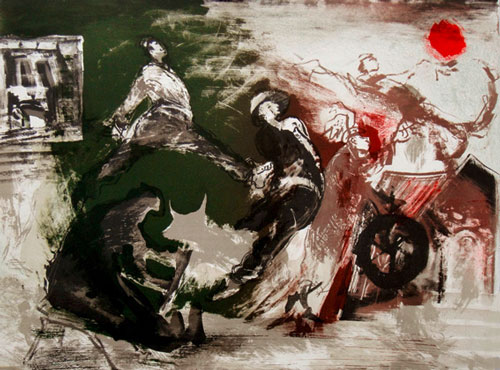 Fade Freiheit
2011
Drawn on stone, printed from stone
(Original lithograph) on Velin d'Arches in 6 colours
Printer: À FLEUR DE PIERRE, Paris
50 x 65 cm (Paper size / size of image)
Edition of 35/Arabic numbered 1-35
and 10 E.A./Roman numbered I-X
Price: 490,00 € per item
Forwarding expenses: 12,00 € (Postage, packaging and insurance)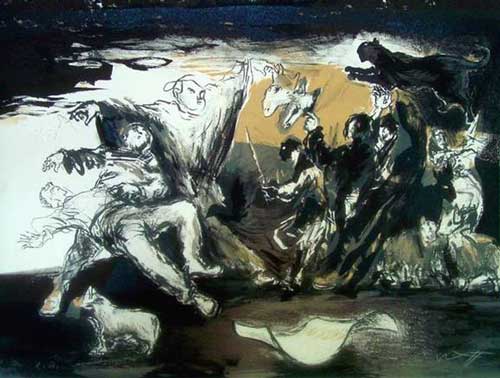 Einspruch
2008
Drawn on stone, printed from stone
(Original lithograph) on Velin d'Arches in 6 colours
Printer: À FLEUR DE PIERRE, Paris
50 x 65 cm (Paper size / size of image)
Edition of 35 and 5 E.A.
Price: 490,00 € per item
Forwarding expenses: 12,00 € (Postage, packaging and insurance)
Prices including VAT.
Original lithographs
The lithographs of Paris-domiciled painter und drawer Harald Wolff are characterized by extraordinary quality. These works, manufactured with great technical finesse in small print runs, are exclusively available from us.
If you are interested in such an object, we ask for short-term message.