The artistic reference to Else Lasker-Schülers´ lyric is one of the main objectives in Marlis Glasers work. The artist translates the expressive poetry and imagination of the author into powerful images full of liveliness and poetry.
Marlis Glaser, born and grown up in Baltringen (Upper Swabia), studies of art and art education at Hochschule für Gestaltung, Bremen and at Kunstakademie Hamburg. Freelancing artist since 1985. By several exhibitions and work assignments both at home and abroad, the artist enjoys growing recognition and reputation. Marlis Glaser lives and works near Biberach/Ulm and meanwhile is among the most notable artists in southern Germany. Marlis Glaser is being represented by JANZEN Gallery since 2004.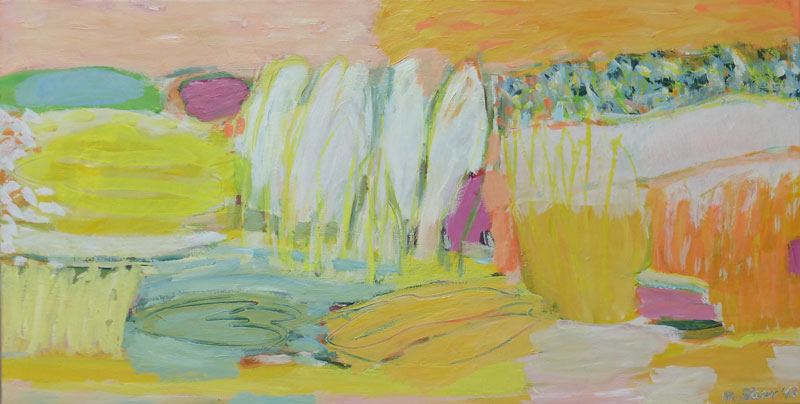 Marlis Glaser: 2018-1 zu ¸Die Liebe´ | 50 x 100 cm | Oil on canvas
Views of the exhibition
March 24. – April 17., 2019
STRAHL IN STRAHL VERLIEBTE FARBEN
Painting | Pictures on love poems by Else Lasker-Schüler
Vernissage
Sunday, February 10., 2019, 4:00 p.m.
Greeting
Hajo Jahn, First Chairman of Else Lasker-Schüler-Gesellschaft Wuppertal
n her introduction, Marlis Glaser explains the link of poem and picture.
Opening hours
Saturday 12:00 p.m. – 4:00 p.m.
and by appointment