Reinhard Voss builds countenances: relief-like faces and heads of outstanding grace and presence. To create most different shapes of heads and faces, the artist collects fragments of wood with varying structure and grain, then joins them together. Using Indian ink and acrylic paint, he puts signs and stigmata on the surface, a process similar to tattoing. By the haptic and visual appeal of the object´s surface the strong expression of his portraits is even increased, nevertheless they innate calm, concentration and intensity: skin as surface and sensual membrane. A hidden interior, a content always renewed and individually to explore; familiarness and foreignness, identity and individual: Those are the issues Reinhard Voss tries to resolve by his art.
Reinhard Voss, born in Rendsburg/Schleswig-Holstein in northern Germany, studied sculpture at the academy of fine arts in Karlruhe in the classes of Prof. Hiromi Akiyama and Prof. Stephan Balkenhol. The works of Stephan Balkenhol´s master student soon attracted great attention. Working freelance since 2000, Reinhard Voss' portraits are shown in widely noticed exhibitions both at home and abroad. The artist lives and works in Karlsruhe.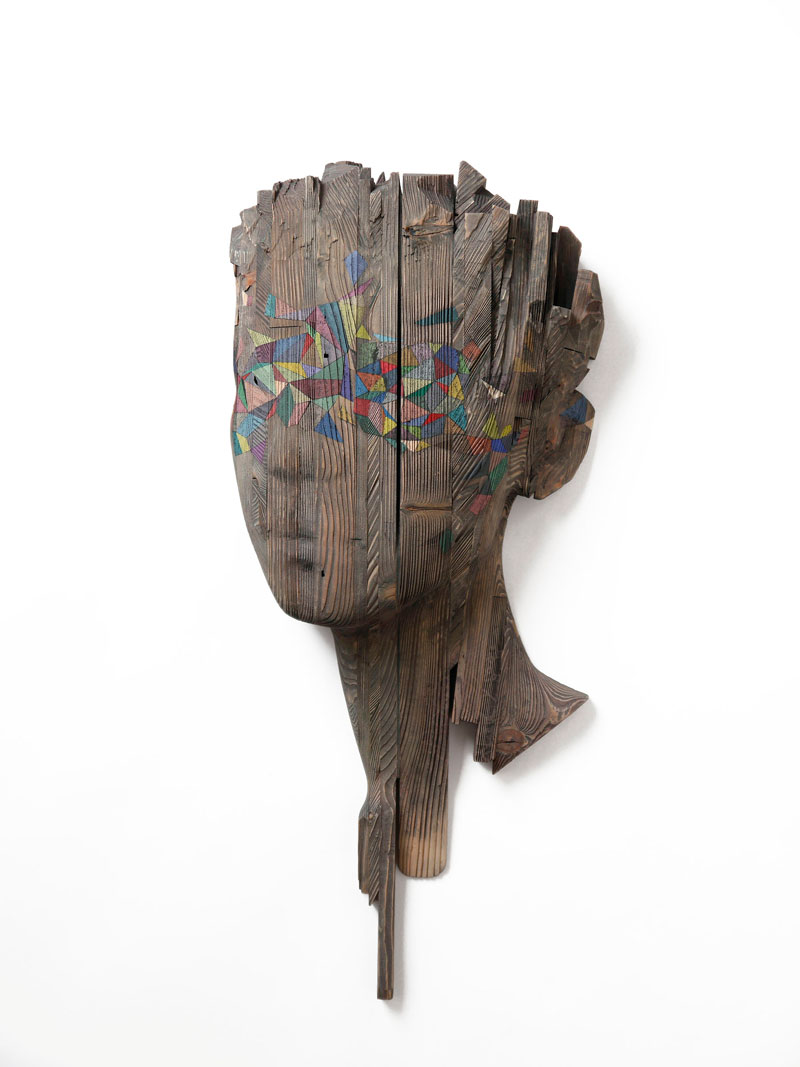 maximise the audience | 2017 - 2019 | conifere wood, Indian ink, acrylic paint | 82 × 36 × 12 cm
September 6. – October 25., 2019
Konterfei
Countenances in wood
Vernissage
(with 'Duesseldorf and Cologne gallery weekend' taking place in parallel)
Friday, September 6., 2019, 6:00 p.m. – 9:00 p.m.
Saturday, September 7., 2019, 12:00 a.m. – 6:00 p.m.
Sunday, September 8., 2019, 12:00 a.m. – 6:00 p.m.
Finissage
with Reinhard Voss in attendance:
Friday, October 25., 2019, 7:00 pm – 10:00 p.m.
NEW ADDRESS:
Bilker Str. 1/Carlsplatz | Düsseldorf
Opening hours
Saturday 12:00 p.m. – 4:00 p.m.
and by appointment
»When it´s opened, it´s opened!«