This rather small fair, located in the architectually interesting "Vulkan-Halle" from the Belle Epoque period, took place at the same time as the well-known ART COLOGNE. Its programme adresses to young art enthusiasts as well as sophisticated buyers of Classical Modern and Contemporary Art.
Views of our fair appearance
April 11. – 13., 2014
COLOGNE PAPER ART 2014
Art fair for Graphics and Paperworks
Vulkan-Halle,
Lichtstr. 43,
50825 Cologne
Stand 38 – 39
Opening hours of the fair:
Friday, April 11. and Saturday, April 12.:
11:00 a.m. – 8:00 p.m.
Sunday, April 13.:
11:00 a.m. – 7:00 p.m.
This year, we have shown works of the following artists:
Horst Becking
Hubert Berke
Winfred Gaul
Emil Schumacher
Fair Information
Info-Flyer as PDF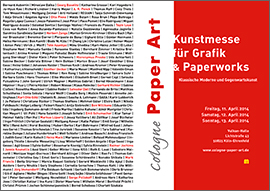 Homepage
http://www.cologne-paper-art.de/index_en.php
The contents of external links (

) are subject to liability of the respective provider. External links will open in a new window.