In a joint exhibition titled FACE TO FACE, the JANZEN Gallery shows works of Karlsruhe-based artists Johannes Gervé and Reinhard Voss from November 15th to December 14th 2014 at its Bayreuth location.
Johannes Gervé, inspired by several long-distance travels, does not paint what is seen but creates imagery worlds which arise from his memory and emerge from following their own formal rules. Natural phenomena and objects are presented equal to form and structure. Colour ist he main aspect in Gervé´s painting. Tempera blended with resins and waxes, applied in numerous layers and glazes, becomes image-defining element for itself. By modelling light and shadow, form, space, motion and rhythm arise in a lively way. The colour spaces thus created reach far beyond the borders of the image, adressing the viewer on a subjective and emotional level with their both restraining and decisive pervasion.
Johannes Gervé: Born in Karlsruhe 1965, graduate of the Staatliche Akademie der Bildenden Künste Karlsruhe, freelance painter since seit 1991. International exhibition activity in Switzerland, Denmark, France, Corea et al. Works in public and private collections, as Würth Collection, Municipal Art Gallery of Karlsruhe, EnBW Karlsruhe Art Collection, BBBank Art Collection, Regierungspräsidium Stuttgart, Regierungspräsidium Karlsruhe.
Reinhard Voss builds countenances: relief-like faces and heads of outstanding grace and presence. To create most different shapes of heads and faces, the artist collects fragments of wood with varying structure and grain, then joins them together. Using Indian ink and acrylic paint, he puts signs and stigmata on the surface, a process similar to tattoing. By the haptic and visual appeal of the object´s surface the strong expression of his portraits is even increased, nevertheless they innate calm, concentration and intensity: skin as surface and sensual membrane. A hidden interior, a content always renewed and individually to explore; familiarness and foreignness, identity and individual: Those are the issues Reinhard Voss tries to resolve by his art.
Reinhard Voss, born in Rendsburg/Schleswig-Holstein in northern Germany, studied sculpture at the academy of fine arts in Karlruhe in the classes of Prof. Hiromi Akiyama and Prof. Stephan Balkenhol. The works of Stephan Balkenhol´s master student soon attracted great attention. Working freelance since 2000, Reinhard Voss' portraits are shown in widely noticed exhibitions both at home and abroad. The artist lives and works in Karlsruhe.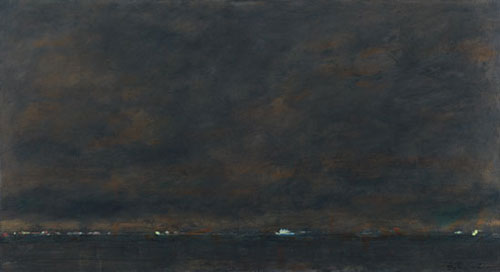 Johannes Gervé: 2012 | Tempera on canvas | 110 x 200 cm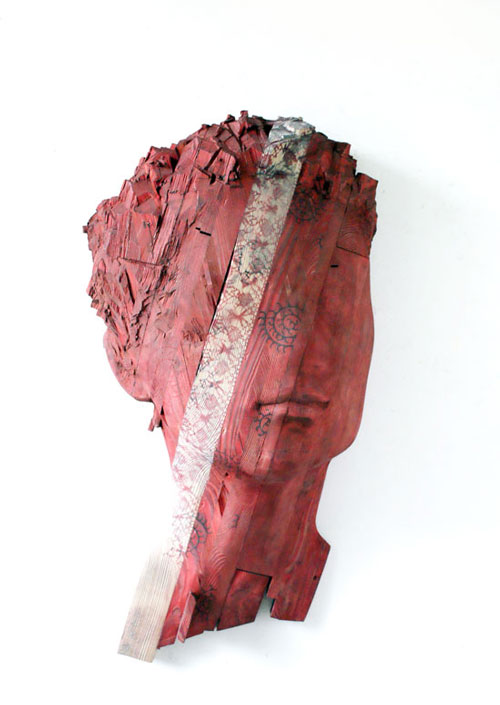 Reinhard Voss: alliance | 2011/2014 | conifere wood, glue, Indian ink, acrylic paint | 95 x 52 x 20 cm
Views of the exhibition
November 15. –
December 14., 2014
FACE TO FACE
Painting | Wooden countenances
Vernissage with the artists in attendence
Saturday, November 15. 2014,
5:00 p.m – 8:00 p.m.
Finissage
Sunday, Dezember 14. 2014,
4:00 p.m. – 7:00 p.m.
with artists discussion
from 6:00 p.m. – 7:00 p.m.
Opening hours
Friday 2:00 p.m. – 6:00 p.m.,
Saturday 11:00 a.m. – 3:00 p.m.
and by appointment
Invitation card as PDF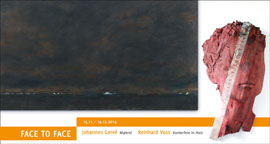 The contents of external links (

) are subject to liability of the respective provider. External links will open in a new window.
Press report

November 27., 2014, Nordbayerischer Kurier
Report about our exhibition
Press report as PDF