Willibrord Haas:
"Being born into the war and postwar period, my personal imperative has always been NO MORE WAR, at least in the realm of my art. Art, and before that, music, always yanked me out of the often bitter reality; art has brought me luck. I have been regarding the so-called abstract art as an artistic universe appropriate to my person. Objective, figurative art, which I also always practised, has never been a comparable pleasure for me.

I was born 1936 in Schramberg as fifth child of an artistically talented family. When I was 10 years old, we moved to Wangen in the Allgäu region, a considerably warmer and brighter area. War was over, a baroque sorrounding. In the churches, charming cherubs play with the torture instruments of the crucifixion, heavens are perspectively painted into the domes. Well, a good place to live.

High school graduation at the age of 18 and on to the Munich Academy of arts. Master student and subsequently faced with nothing. I struggled along by painting portraits, until one day two of my customers died shortly after finalisation of their depictions. No! I didn't want to be the death bringer. From then on, no portraits anymore.

I moved to Berlin where I live and work since then: I jobbed at the theatre, as an extra, lighting technician, unskilled stage worker – plenty of time for painting, small watercolours – actually, I developed my artistic language during that time. First exhibitions, successful against expectation. I got to know my dear wife, a wonderful time began; children, painting studio, printing workshop, boom in graphics, lots of exhibitions, producing and selling lots of editions, making books and catalogues of works. Circumstances have become somewhat more difficult, but I and we could live on art.

Now, at the age of more than 80 years, the review definitely becomes more significant than the outlook … but painting and colours remain a constant source of joy for me."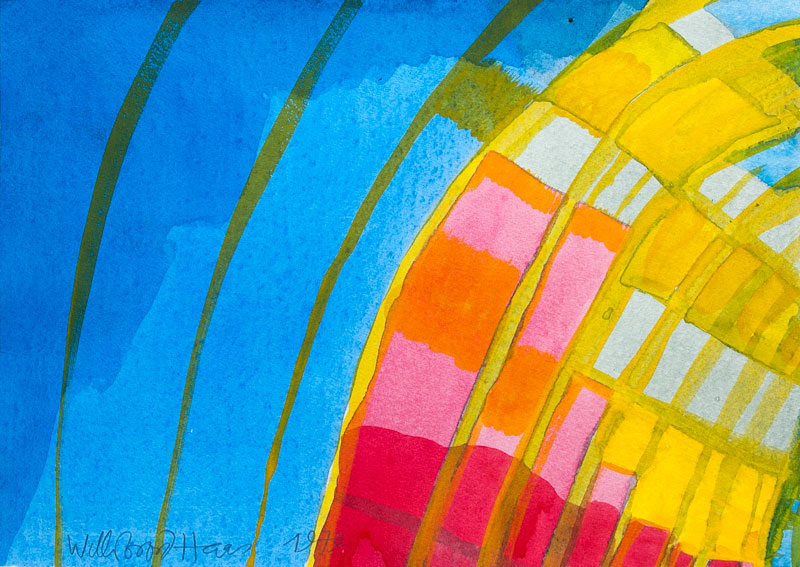 Willibrord Haas: Ohne Titel | 1979 | 29 x 42 cm | Watercolours on handmade paper
Views of the exhibition
June 10. – July 7., 2018
wasser-farbenselig
Watercolours
Vernissage with the artist in attendance
Sunday, June 10., 2018, 4:00 p.m.
Opening hours
Wednesday and Friday 2:00 p.m. – 6:00 p.m.,
Saturday 12:00 p.m. – 4:00 p.m.
and by appointment