Tina Juretzek
Homepage
Wikipedia
https://en.wikipedia.org/wiki/Tina_Juretzek
Contents of external links (

) are subject to liability of the respective provider.
External links will open in a new window.
Exhibitions of the
JANZEN Gallery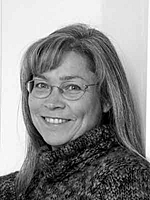 Biography
1952
born in Leipzig
1958
Relocation to Essen
1971
High school graduation
1971 - 78
Studies at Staatliche Kunstakademie Düsseldorf, Professor Günter Grote
seit 1979
freelance painting and extensive exhibition activity both at home and abroad
1983
Advancement award of the jury, Stadtsparkasse Karlsruhe
1984
Kaiserring scholarship, Goslar
Three-week work stay with atelier and solo exhibition accompanying Kaiserring scholarship at Willem de Kooning
1986
6. Triennale ­ India, New Delhi,
Official German contribution
1987
Work scholarship of Aldegrever ­ Gesellschaft, Münster
Work stay at printing workshop Kätelhöhn in Wamel/Möhnesee
1989
Bergischer Kunstpreis, Solingen
1991
Painting Workshop at Osaka College of Art, Osaka, Japan
Goethe-Institut Osaka, Japan
1993
Travel scholarship und painters symposium, Goethe-Institut Madras, India
1996
Guest atelier und work scholarship of 'Ars et Vita', Gesellschaft zur Förderung kultureller Kommunikation e.V. at Szentendre near Budapest, Ungarn
1998
Member of Westdeutscher Künstlerbund
Tina Juretzek lives und works in Düsseldorf.
Solo exhibitions
(Selected, beginning from 1990)
1990, 1993,
1996, 1998
Düsseldorf,
Galerie Elke + Werner Zimmer
1994
Hannover, Galerie Marika Marghescu
1991
Berlin, Galerie Nalepa
1990, 1996,
2004
Krefeld, Galerie Meta Weber
1990
Bruxelles, Goethe-Institut
1990, 1992,
1993, 1997,
2004
Luxemburg, Galerie de Luxembourg
1991
Kleve, Städtisches Museum Haus Koekkoek
Osaka, Japan, Kodama Gallery
1992, 1996
Heidelberg, Galerie Birgit Terbrüggen
1992
Solingen, Deutsches Klingenmuseum, Städtische Galerie
1994
Luxemburg, Deutsche Bank Luxembourg S.A.
Weil am Rhein, Galerie Smeets
1995
Goslar, Mönchehaus Museum für Moderne Kunst
1997, 1999,
2002
Dortmund, Galerie Heinz Wenk
1997
Düsseldorf, Ministry of municipal development
1998, 2001
Hannover, Galerie Borkowski
1998
Krefeld, Casino Stockhausen GmbH
1999
Kaiserslautern, Pfalzgalerie
Witten, Märkisches Museum
Heidelberg, Heidelberger Kunstverein
2000
Gladbeck, Städtische Galerie
Mülheim/Ruhr, Städtisches Museum
2001
Berlin, Galerie Brennecke
Oerlinghausen, Kunstverein
Ehingen, Galerie Schloss Mochental
2002
Bad Homburg, Galerie Marianne Hennemann
Düsseldorf, Martin Leyer-Pritzkow
2003
Bonn, Galerie Marianne Hennemann
Wiesbaden, Galerie Brigitte Haasner
2004
Institut für Rhetorik und Kommunikation / Galerie Zimmer, Bornheim
2005
»Erweiterte Horizonte«, JANZEN Galerie, Gevelsberg
»Loca aperta«, anders galerie / troner art consulting, Düsseldorf
»Uralte Orte«, Galerie Josef Nisters, Speyer
Ausstellungsreihe: »Geahntes Land«, Kunst aus NRW, Ehemalige Reichsabtei Aachen-Kornelimünster
Ausstellungsreihe: »Geahntes Land«, Galerie Schloss Mochental, Ehingen
2006
Ausstellungsreihe: »Geahntes Land«, Schloss vor Husum, Husum
2007
"Geordnete Fülle", JANZEN Gallery, Wuppertal
anders galerie / troner art consulting, Düsseldorf
2009
Galerie Josef Nisters, Speyer
2011
Antiquariat Querido, Düsseldorf
Retrospective solo exhibition
at Düsseldorf town hall, mayor´s office Friedrich G. Conzen
2012
Galerie Josef Nisters, Speyer
2013
Galerie Josef Nisters, Speyer
Group exhibitions
(Selected, beginning from 1990)
1991, 1998,
1999, 2002
Große Düsseldorfer Kunstausstellung,
Düsseldorf, Kunstpalast
1990
»Blau ­ Farbe der Ferne« Heidelberg, Heidelberger Kunstverein
»Kunstminen«, Düsseldorf, Städtisches Kunstmuseum
1993
»Images«, Madras, India,
Sakshi Gallery
1995
»Else-Lasker-Schüler-Ausstellung«, Wuppertal Barmen, Ruhmeshalle
»Farbräume und Bildstrukturen«, Kleve, Städtisches Museum Haus Koelkkoek
»Zehn von Hundert, 10 Jahre BASF Kunstausstellungen«, Ludwigshafen, BASF-Feierabendhaus
1996
»Ruhm - Werke von Künstlerinnen in nordrhein-westfälischen Museen«, Bonn, Frauenmuseum
1997
»Augenzeugen. Die Sammlung Hanck«, Düsseldorf, Kunstmuseum
1998
»Schauplätze«, Westdeutscher Künstlerbund, Herne,
Städtische Galerie
1999
»Grafik der Gegenwart«, Bonn, Künstlerforum
2002
»Der Berg«, Heidelberg, Heidelberger Kunstverein
2003
»Jahresgaben 2003«, Krefeld, Krefelder Kunstverein
»Jahresgaben 2003«, Goslar, Mönchehaus Museum für Moderne Kunst
2004
»10 Jahre Museum und Schachtelkunst aus 10 Jahren Einzelausstellungen«, Städtisches Museum Mülheim/Ruhr
2005
»Stilleben – Positionen der Gegenwartskunst«, Kunstkreis Cloppenburg
2006
»25 Jahre Niederrheinischer Kunstverein«, Wesel - Jubiläumsausstellung
»Düsseldorf + Luxembourg in Koerich«, Ferme du Chateau, Luxembourg
2008
»35 Jahre Galerie Hennemann«, Galerie Marianne Hennemann, Bonn
»Übers Sofa«, Troner art consulting im Stilwerk, Düsseldorf
2009
»Neue Landschaften«, ThyssenKrupp Steel Bildungszentrum, Duisburg
2010
»Tempi passati« - 15 years of JANZEN Gallery, Wuppertal
»25 Jahre Galerie Haasner«,
Galerie B. Haasner, Wiesbaden
2011
»Frühlingserwachen«, Galerie Josef Nisters, Speyer
»changes«, Troner art consulting im Stilwerk, Düsseldorf
»Landschaft«, Malerei-Graphik-Skulptur-Fotografie,
Galerie B. Haasner, Wiesbaden
2012
»Graphik - Malerei - Plastik«, Gruppenausstellung Galerie B. Haasner, Wiesbaden
2013
"Akt mit Pyramide - Die Schönsten Zeichnungen der Graphischen Sammlung", Museum Pfalzgalerie Kaiserslautern
2014
»Im Licht der Farbe«,
Galerie Josef Nisters, Speyer
»SIE UND IHRE AUSSTELLUNGEN - 20 Jahre Ausstellungstätigkeit für Kunst aus NRW«, Sammlung Kunst aus NRW in der ehemaligen Reichsabtei Aachen-Kornelimünster
2015
»Starke Stille«, JANZEN Gallery, Düsseldorf
Works in public ownership
(Selected)
Düsseldorf, Kunstmuseum
Düsseldorf, Federal State Parliament of Northrine-Westfalia
Stuttgart, Staatsgalerie
Cologne, Collection Ludwig, Walraff Richartz Museum
Düren, Leopold-Hoesch-Museum
Hannover, Sprengel Museum
Würzburg, Städtische Galerie
Goslar, Mönchehaus Museum für moderne Kunst
Bremen, Kunsthalle Bremen
Witten, Märkisches Museum
Mülheim, Städtisches Museum
Kleve, Museum im Kurhaus
Leverkusen, Städtisches Museum, Schloss Morsbroich
Hamm, Gustav-Lübcke-Museum
Aachen - Kornelimünster, Kunst aus NRW, Ehemalige Reichsabtei
Kaiserslautern, Pfalzgalerie
Tübingen, Regional Council